As a form of uniquity and a nod to eco-chic, wood is proving to be a welcomed trend in the world of weddings. From stationery to floral arrangements, wood is being used in its most organic element.
The following are some great ways you can embrace the romance and uniquity that wood conveys.
Stationery

To me, the concept of writing on wood hits a romantic note, as it reminds me of the days when couples used to carve their love for one another inside a heart on a tree.
'First Love' wood invitation, $5.50,
baumbirdy
Wood custom programs, $100 for 7,
coconutrobot
Escort Cards
When escort cards are made of wood, they prove to be too pretty to slip into a purse. Instead, they are placed on the dinner table as an extension of the table decor. In addition, there's something so permanent about writing a guest's name on wood; it's like calling them a friend for life.
Wood veneer escort cards,
Papier Valise
Wood escort cards,
Craftzine
Florals
In the form of pinecones, wood can be a natural replacement or addition to florals. Not only do they represent a bloom in their natural design, they keep their shape and do not wilt as flowers do.
Pinecone Boutonniere,
The Orange Blossom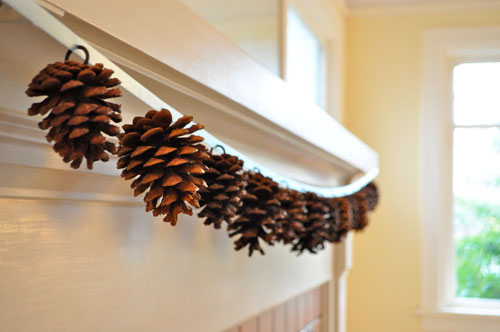 Pinecone Garland,
Twig & Thistle
Dessert Presentation
The naturally round shape and sturdiness of wood rounds make them a great option for dessert presentation, as they replicate serving plates. Wooden utensils add a charming, rustic touch to any dessert or ice cream buffet.
Rustic Cakestand,
Craftzine
Fall-themed dessert buffet featuring faux bois,
Amy Atlas
Wooden utensils, $5.90 for 100,
Can-Do Chefs
Centerpieces
Wood rounds make perfect platforms for table decor, as they can be used in varying heights, sizes, and numbers. A handmade pinecone flower adds softness. Birch bark is very pliable and therefore a great medium for wrapping floral vases.


Wooden centerpiece, Design Sponge



Birch bark tubes, Small Stump + Studio Choo


bonafidebride